Drive Digital Transformation & Help your Clients Thrive
Become a strategic MSP and create a digital transformation plan for your clients. Help them achieve their company goals using technology and thrive together in a new modern world.
Standardize Your Stack
Strategy Overview is designed to standardize your stack across all your clients so you can deliver a better experience that clients and engineers will love and rave about!
Assessment
Grade your clients' technology strategy on 100+ points and clearly document all the risks. By leading your clients through this process, you will evolve their businesses, dramatically reduce your support hours per end point and keep your team happy and healthy.
Roadmap
Easily see your project roadmap and prioritize technology upgrades over 7 years.
Budget
Automatically calculate the budget for all future projects in our new Quickbooks style budget view.
Executive Summary
Create a simple executive summary for your clients based on a template so they can see a snapshot of what is actually going on. No longer will clients be overwhelmed by pages and pages of techy reports they don't understand.
Template Engine
Use our golden template or make your own. Templates are infinitely customizable with different parts to create a report of your dreams standardized across all your clients.
Beautiful PDF report
Generate a beautiful PDF that show your client a full picture of their technology strategy, network map, assets, contacts, roadmap and budget.
Presentation Mode
Run a meeting via Zoom/Teams and then generate a beautiful fully branded PDF report in seconds that your clients will love. Your clients will have full clarity into their overall technology health and strategy.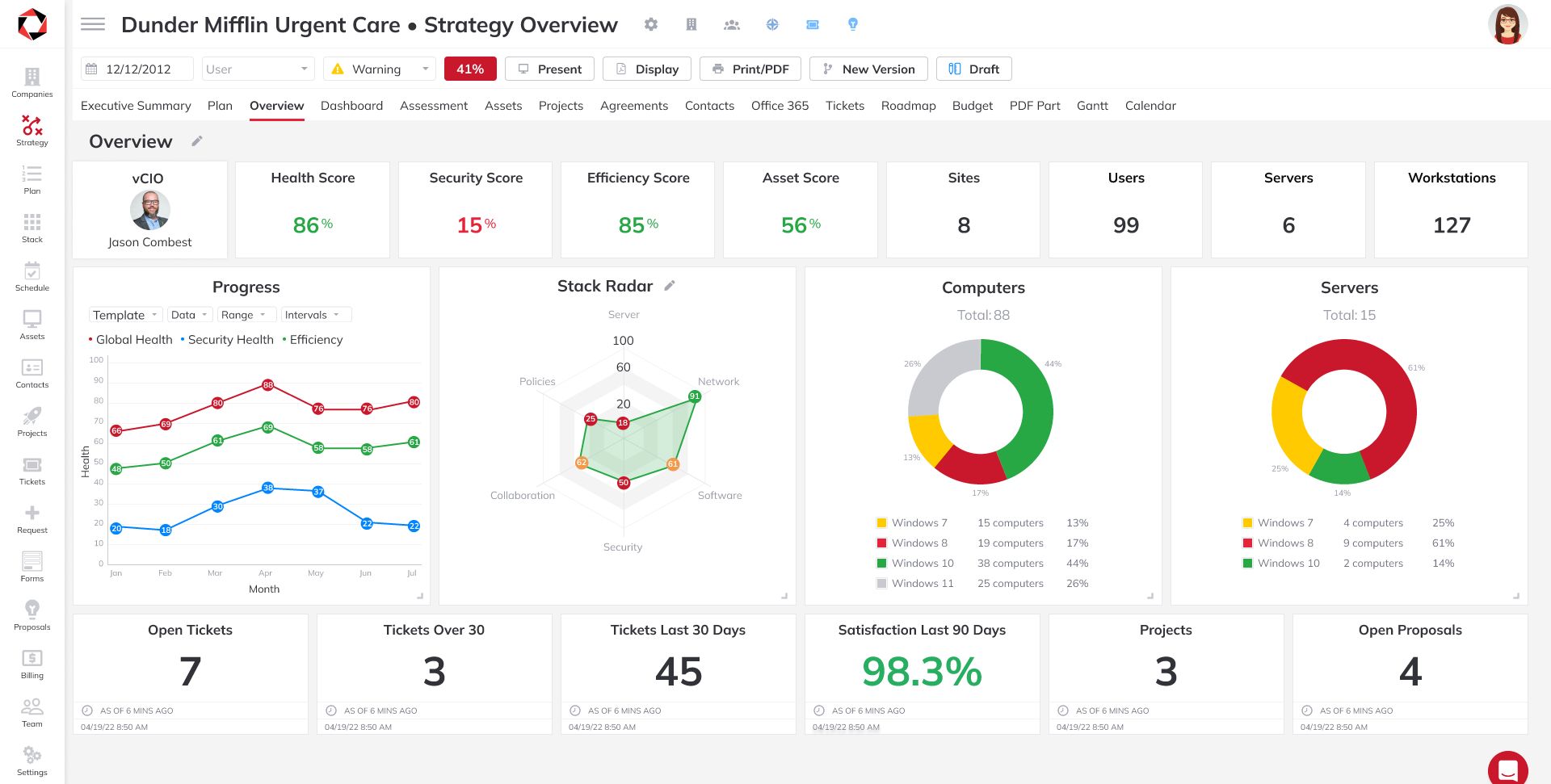 Overview
Visualize your client's health score, security score, efficiency score, sites, users, servers, workstations, progress over time and so much more.
Asset List
Show a clean list of all computers and servers. Grade and budget for computer replacements. Strategy Overview will also automatically update the purchase date, warranty date and manufacturer and sync it back into your PSA.
Managed User List
Sync your contacts into Strategy Overview and show a clean user list of active managed users to your clients.
USED BY THOUSANDS OF MSPs WORLDWIDE TO MANAGE THEIR vCIO/QBR PROCESS